Sure, exploring the sprawling Guadalupe Mountains and expansive trails of Big Bend sounds like a good idea. But both spots are also really, really far from Houston. These 10 dope hikes are a little bit closer to home (and by a little bit closer, we mean you'll be taking a drive with one Whataburger stop, two tops).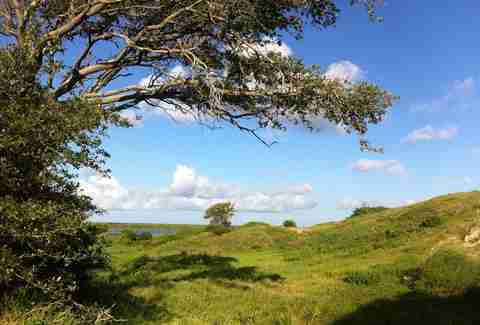 Galveston Island State Park
Distance from Houston: 60 miles
Yes, that Galveston Island. The 2,000 acre state park replete with wetlands, sand dunes, and coastal prairies is actually quite beautiful. Plus, its wildlife — from armadillos and coyotes to an impressive mosaic of birds — is on fleek (because if eyebrows can be on fleek, so too can a marsh rabbit).
Sam Houston National Forest
Distance from Houston: 50 miles
Just 50mi north of Houston lies this massive, 163,000 acre national forest that spans three counties and shows evidence of human occupation dating back to 12,000 years. Channel your inner Indiana Jones by hitting up the winding 128mi Lone Star Hiking Trail.